Shoes similar to Tevas include those from brands like Chaco, Keen, Merrell, and Columbia. These brands also offer comfortable, durable, and supportive sandals designed for outdoor activities and casual wear. Consider your specific needs, preferences, and budget when choosing an alternative to Teva shoes.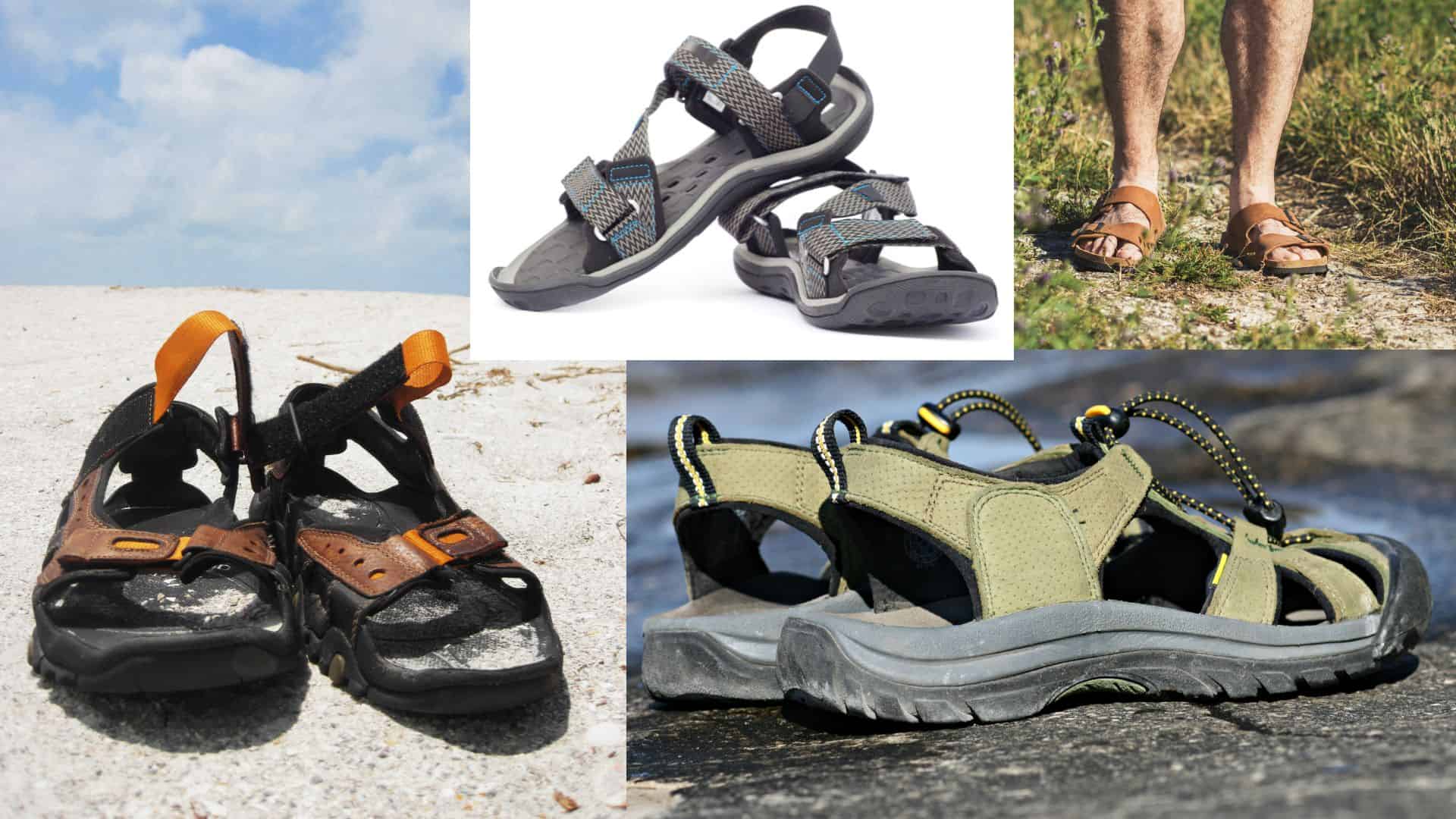 Ever since Tevas were invented… they have been a staple of the outdoorsy lifestyle… They're super comfortable and easy to slip on and off… but they also look cute enough that you can wear them to the mall or a party.
From the beach to the boardwalk… from the summer campsite to the city streets… this sandal has proven itself to be one of the most versatile and popular footwear options available today.
It's no wonder they're such a favorite… the sole is made from high-quality rubber that allows for both traction and cushioning… The upper portion is made from a lightweight fabric that allows for breathability and a close fit.
Tevas are great shoes… but they're not the only ones out there… If you're looking for a pair that's similar to Tevas… but maybe a little different… then you're in luck… Here are 10 other options that offer something similar to Teva Shoes:
---
1… Chaco Sandals
Chaco sandals are athletic sandals: Like Tevas… Chacos are designed to be worn in water and on land and they're built for comfort and durability.
They have a jacquard-webbed upper: Jacquard webbing is a woven strap that gives the shoe more structure and support than other straps do.
They have adjustable and durable high-tensile heel risers: High-tensile heel risers provide extra stability while giving you more freedom of movement than other types of heels… They also make it easier to adjust the fit based on your specific needs.
They use LUVSET PU midsole: The LUVSET PU midsole has excellent cushioning that makes it ideal for long walks or hikes through uneven terrain because it absorbs shock well but still provides plenty of support so your feet don't get tired easily even after several hours of wearing these shoes around town or even longer if you're doing some serious hiking outdoors!
Non-marking ChacoGrip rubber outsole with 3mm lug: The outsole on Chacos is made of non-marking ChacoGrip rubber… meaning you can wear them indoors and outdoors without worrying about leaving marks on your floors… The lugs are also designed to provide traction in slippery conditions.
---
2… Bedrock Sandals
If you're looking for a Teva sandals alternative… look no further than Bedrock Sandals… The Bedrock design team is constantly creating innovative new styles that are both functional and fashionable… From their classic sandals to their more adventurous offerings like the Velcro-friendly Flow model… there's something for everyone here!
Unparalleled field testing: Every single pair of Bedrock Sandals goes through rigorous testing in order to ensure it can hold up under any conditions—from mountaintops to river bottoms—and can withstand even the most extreme conditions you might encounter out there on your adventures.
Tread light and secure: Bedrock sandals are designed with an open-toe design that allows your feet to breathe while keeping them safe from dangerous terrains like rocks and sharp objects lying around on the ground (which might cause injury if you were wearing closed-toe shoes instead).
It also helps prevent blisters because there is no pressure from rubbing up against anything else inside these shoes–it's just air flow all day long!
---
3… Skechers Sport Sandals
Skechers Sport Sandals are lightweight… responsive sandals that have a man-made sole and a soft heathered fabric upper… They also have adjustable straps to ensure a secure fit… with Goga Max's high rebound insole for maximum comfort.
Man-made sole: The man-made sole is light and flexible… making these shoes comfortable to wear all day long… It also has great traction so you can walk comfortably on various terrains without slipping or sliding.
Lightweight… responsive 5Gen cushioning: The 5Gen cushioning of these shoes makes them very comfortable as well as shock absorbent when you walk on uneven surfaces like concrete or asphalt.
This is because the foam used to make this cushioning is soft yet firm enough so that it does not compress under pressure from your feet when walking or running around outdoors on different terrains like grassy lawns or rocky ground surfaces where there were no sidewalks available!
Sketchers Goga Max High Rebound Insole for Maximum Comfort: Another benefit of Skechers Sport Sandals is that they have an adjustable strap that fits securely around your foot without sacrificing comfort… You can adjust these straps as needed so they fit snugly but not too tightly without causing any discomfort whatsoever.
---
4… CIOR Hiking Sandals
CIOR Hiking Sandals are the perfect sandal for your next adventure… Featuring an EVA footbed… arch support… quick-dry and durable design… ingenious design… and an anti-skid outsole… these sandals are great for those who want to get out there and hike!
Eva Footbed: The Cior hiking sandals have an EVA footbed… which provides excellent arch support and comfort… This is just one reason why they're so good for people who have flat feet or need extra support in their shoes.
Arch support: The Cior hiking sandals also provide excellent arch support… which is essential for anyone who needs it in their footwear.
Quick-dry & Durable: The quick-dry and durable materials on the cior hiking sandals make them perfect for hiking or other outdoor activities… where you might be getting wet or dirty while out on the trail… There's no point in having a pair of shoes that aren't going to survive the elements!
Ingenious Design: These sandals are designed with ingenuity in mind… They're lightweight and flexible enough to be comfortable without weighing you down as you move around during activities like hiking or running on trails near waterfalls or lakes where there may be slippery rocks hidden underfoot!
---
5… Xero Shoes Z-Trail Sandals
If you're a fan of Teva sandals and are looking for an alternative that gives you the same comfort… then check out Xero Shoes Z-Trail… These sandals offer many of the same features as the popular Tevas but in a lighter… more flexible package.
The Xero Shoes Z-Trail EVs are lighter and more flexible than most other sports sandals… They get rid of 70% of your usual sports sandal's weight and bulk… The super flexible sole lets your feet bend and move naturally so you can do what you want to do without restriction or discomfort.
The upper webbing is made from Unifi recycled plastic bottle yarn… giving them extra comfort so they conform perfectly to your foot shape.
The tubular quick-dry webbing adds even more comfort as well as durability which means these shoes will last longer than other types of sport sandals on the market today!
Finally… adjustable heel and instep straps give a secure fit so you won't have to worry about them slipping off during use or while running around town doing errands throughout the day!
---
6… Atika Outdoor Hiking Sandals
Atika sandals are the perfect alternative to Tevas… They're designed for outdoor and summer seasons… with a rubberized Multi Traction system that absorbs shocks including foot strikes underwater.
They are equipped with a rubbered Multi Traction system that absorbs shocks including foot strikes underwater… They have also been designed with a closed loop lacing system with adjustable elastic strings so that they can be used on dry lands and in the water… as well as on any type of terrain outdoors.
The Multi Traction system on Atika Outdoor Hiking Sandals is designed to provide traction on both underwater and dry surfaces… meaning they offer more versatility than other types of sandals.
This is one of the reasons why they are an excellent alternative to Teva sandals—they'll give you more options when it comes to where you can wear them!
The padded rear lining is for comfort and anti-chaffing shielding… so you can wear these shoes all day long without feeling sore at the end of the day.
---
7… CAMEL CROWN Waterproof Hiking Sandals
The CAMEL CROWN Waterproof Hiking Sandals are a great option for anyone who wants to have the comfort and durability of a Teva sandal… but with a more stylish design.
Ergonomic design provides a natural foot posture: Ergonomic design means that these sandals will give you a more comfortable experience while walking or running in them.
The shoe's midsole is made of bouncy MD which absorbs shock… so your feet won't hurt as much after walking long distances in these shoes.
Stylish jacquard ribbon details add a sporty look: The jacquard ribbon details add an extra element of style to this pair of shoes… making them stand out from other brands on the market today.
You can wear these shoes to run errands around town or even go hiking in them because they're waterproof! That means they'll keep your feet dry and protected from any elements out there where you could slip on some rocks or roots along the way (which happens all too often when hiking).
---
8… KEEN Newport H2 Closed Toe Water Sandals
KEEN Newport H2 Closed Toe Water Sandals offer many of the same features as Tevas… they're both water-resistant… have great traction and protection… provide plenty of support and comfort… and have an original fit that gives generous space for toes to spread out
Water-Resistant Upper: You can get these sandals wet without worrying about them getting ruined because they are completely water-resistant! The treaded sole on these sandals keeps you grounded and secure on slippery surfaces… This is especially important when you're walking around on rocky beaches or on rocky trails!
They're lightweight enough that they don't weigh down your feet but sturdy enough that they provide ample support and comfort for days at a time of walking through natural environments.
The Keen Original Fit gives generous space for toes to spread out: This means that your toes are free to wiggle around naturally without feeling cramped or constricted by the size of your shoe!
The footbed provides additional cushioning against hard surfaces so that even if you're walking long distances over many hours each day… you won't suffer any pain or discomfort due to pressure points on your feet… This makes it easy to wear them all day long without having to worry about any discomfort.
---
9… NORTIV 8 Hiking Sandals
If you're looking for a great Teva alternative… look no further than the NORTIV 8 Hiking Sandals… These hiking sandals feature a quick-dry design that's lightweight and flexible.
They also have a slip-resistant sole so you can wear them in all kinds of conditions without worrying about slipping or falling.
They are lightweight and flexible… so they can be worn all day… The design of these hiking sandals is also very convenient… as it is slip-resistant and quick drying… You don't have to worry about wet feet when wearing these sandals on rainy days.
When you wear these shoes… they'll feel like they were made just for your feet… They are comfortable and convenient… making them perfect for swimming… cycling… boating… jogging… walking… beach sport… pool… sailing… paddle boarding… snorkeling diving yoga… and other indoor or outdoor activities.
---
10… DREAM PAIRS Adventurous Summer Outdoor Sandals
With Dream Pairs' Adventurous Summer Outdoor Sandals… you'll never have to worry about being caught off-guard by an errant rock or stick poking at your feet while you're walking along the trail or around town.
Super-soft EVA cushioned man-made footbed: You'll never have to worry about blistering or calluses with these sandals!
The super soft EVA material also helps keep your feet cool and comfortable while also making sure that there's plenty of cushioning where it counts (your heels).
Lightweight Flexible Comfort: These sandals are lightweight which means they won't weigh down your feet making them feel tired after walking for long distances on hot days outdoors.