Ah, Shoes Like Stan Smith—they're like the plain white T-shirt of the sneaker world, a must-have in everyone's wardrobe. You know, there's just something so timeless and versatile about that white sneaker look.
It's the epitome of casual footwear, a pair that transitions smoothly from your everyday wear to a street style runway. With their minimalist, retro style, and leather upper, they've become an athletic fashion statement that doesn't scream "I'm trying too hard."
Let's be real, these sneakers check all the boxes: they're the court classics that never go out of style.
Now, I know you're thinking, "Sure, those Stan Smiths are a staple, but what if I want something a bit different without sacrificing those timeless design vibes?" Well, buddy, you're in luck.
We've scoured the market to find you alternatives that meet those exact criteria: think low-top, comfy sole, and a whole lotta urban chic. We're not just talking lookalikes here; we're talking quality shoes that you could easily mistake for their more famous cousin, but with a twist that makes them uniquely appealing.
So why not take a scroll down and check out our top 10 picks? Whether you're a seasoned sneakerhead or just someone who appreciates a good, reliable pair of shoes, we're confident you'll find something that tickles your fancy.
We've broken it down, made it easy-peasy, and—let's be honest—given you a perfectly legit reason to add to your sneaker collection. Trust us, your feet will thank you.
Shoes Like Stan Smith
From casual footwear to street style, this list has you covered. Whether you're going for everyday wear or something a little more athletic, I'm sure you'll find a pair that meets your criteria. So go ahead, scroll down, and pick your next pair. Your feet will thank you, I promise!
| Brand | What You'll Love | What to Watch For |
| --- | --- | --- |
| Puma Men's Roma Basic Sneakers | Classic leather upper with suede accents and a comfy padded tongue. The contrast Puma logo adds flair. | Suede accents might need a bit of extra care. |
| Adidas Women's Grand Court Sneaker | Inspired by 70s tennis styles with a smooth leather upper and synthetic stripes. Cloudfoam for comfort. | Comes in multiple colors, so decision-making might be tough! |
| Asics Mexico Delegation Onitsuka Tiger | Soft suede body with all-over perforations and a cushioned footbed for comfort. | Suede material could be a tad delicate. |
| Vault by Vans OG Leather Authentic LX | Classic Vans style in an all-white leather finish and a rubber waffle sole. | The slip-on design might not be for everyone. |
| Adidas Originals Continental 80 | Retro vibes with a french terry fabric upper and two-tone webbing stripe. EVA midsole for comfort. | Not leather, if that's a must-have for you. |
| Adidas Men's Advantage Sneaker | Similar to Stan Smiths with a leather upper and synthetic stripes. Cloudfoam comfort. | Limited color options compared to others. |
| Tommy Hilfiger Men's Pandora Sneaker | Canvas upper with a contrast heel tab and rubber outsole. Logo adds branded flair. | Canvas material might not be as durable as leather. |
| Adidas Men's Grand Court Tennis Shoes | Another nod to 70s tennis styles, featuring smooth leather and synthetic stripes. OrthoLite comfort. | More of the same if you're looking for something different from Adidas. |
| Puma Women's Carina Sneaker | Leather upper with perforated details and a variety of color options. | Leather might need occasional maintenance. |
| Mark Nason Men's Bryson Sneaker | Knit mesh upper with leather accents. Slip-on design with Air Cooled Memory Foam. | Knit mesh may not offer the same support as full leather. |
Hunting for Shoes Like Stan Smiths? Here's Your Ultimate Guide
Ah, the quest for the perfect shoe—it's a journey, isn't it? If you've landed here, chances are you've fallen head over heels (pun intended) for the timeless charm of Stan Smiths. I get it; they're like the cool, laid-back friend we all wish we had.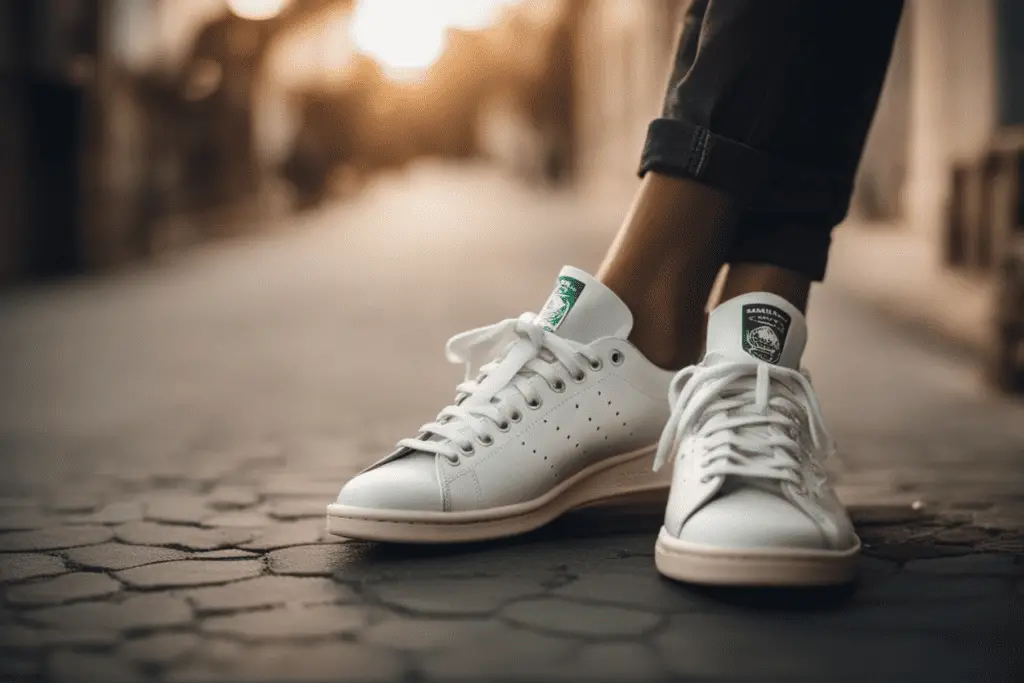 Also see: Shoes Like New Balance 550
You know, the one who looks great without even trying and can go from a backyard BBQ to a posh art gallery without breaking a sweat. So, you're asking, "Where can I find something as awesome as Stan Smiths?" Don't worry; I got you covered.
First thing's first—go for the simple and elegant design. You're looking for a white leather upper, preferably as pristine as freshly fallen snow, coupled with that pop of color on the heel tab.
Let's not forget those subtle, perforated details that make Stan Smiths more than just a pretty face. They add texture and keep your feet from turning into a sweaty mess. Now, as for the fit, comfort's the name of the game.
A rubber outsole and cushioned insole are the secret sauce to walking on clouds. And if you're picky about how your shoes hug your feet (aren't we all?), that lace-up closure is a godsend.
Okay, so you've got the looks and the comfort down, but what about that iconic factor? You want a shoe that says, "I've been awesome since before you were born."
That's where the retro, tennis-inspired silhouette comes in. It's gotta have a logo that people can spot from a mile away, kinda like seeing the Bat-Signal and knowing Batman's about to kick some butt.
Stan Smiths have that same effect; you see them, and you instantly know they're the real deal. They've been rocked by celebs, fashion icons, and probably even your next-door neighbor, Jim.
So there you have it, your treasure map to finding the next best thing to Stan Smiths. Go forth, my friend, and may your shoe game forever be strong.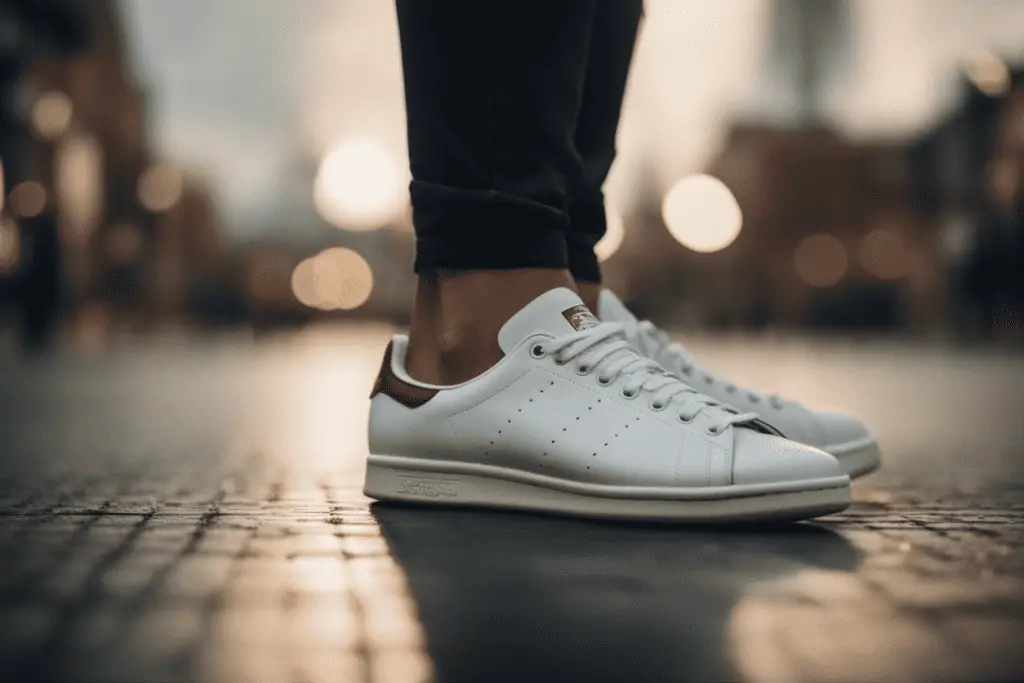 The Unique Aesthetic of Stan Smiths
Ah, the Stan Smiths. You know 'em, you love 'em, and if you're anything like me, you've probably got a pair—or, you know, five—sitting in your closet. Let's talk about the aesthetic these bad boys are rockin'. We're diving into a world of simplicity, elegance, and versatility.
Yeah, you heard me right. These shoes aren't shouting from the rooftops with flashy logos or wild patterns. Nah, they're sitting in a cushy penthouse, sipping on a Martini, epitomizing what I like to call 'quiet luxury.'
Why are they so iconic? Well, first off, these kicks take a page straight outta the 70s tennis scene. They're even named after American tennis legend Stan Smith, so you know they've got some serious athletic cred. But get this—they've managed to transcend not just time, but style too.
Whether you're a minimalist or you're on top of every trend, these shoes got you. Wear 'em to brunch, wear 'em to a business meeting, heck, wear 'em to your own wedding if you want to. They're the Swiss Army knife of footwear, folks.
Now, what is the brand well-known for? Besides making one of the most recognizable sneakers on the planet, we're talking about a shoe that's been styled with everything from high-end fashion to streetwear. They're the go-to choice for, well, just about anything.
From that neutral color palette to those minimal logos, Stan Smiths offer something that not many other brands can—a shoe that's universally loved and infinitely versatile. So whether you're stepping out for a night on the town or running errands on a lazy Sunday, slide into your Stan Smiths. Your feet—and your style—will thank you.
Why Are People Looking for Alternatives if Stan Smith Shoes Are So Good?
Look, Stan Smiths are the grilled cheese of the sneaker world. Simple, reliable, and oh-so-deliciously good. But even the biggest fans of grilled cheese might crave a spicy taco or a gourmet burger every once in a while. The same goes for Stan Smith aficionados. So, why are folks on the hunt for something else? Let's break it down.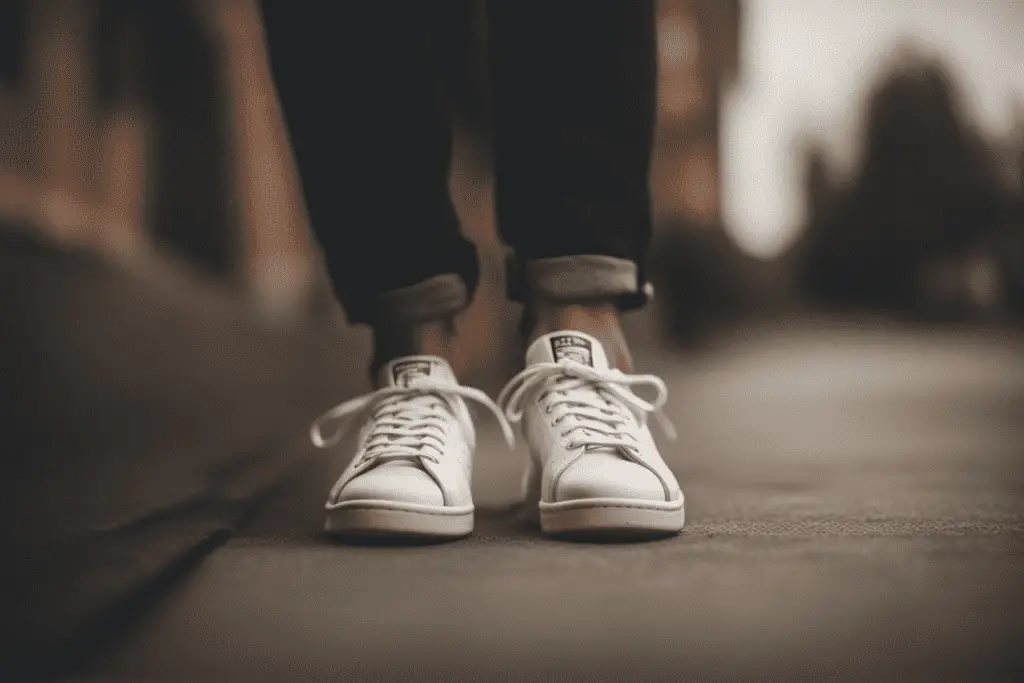 First up: Personal preference. Hey, we're all special snowflakes with our own likes and dislikes. Maybe you're the adventurous type, always looking to step out of your comfort zone.
Or maybe you're just bored of seeing every Tom, Dick, and Harriet on the street wearing the same pair. Either way, it's human nature to want to stand out and make a personal statement.
Then there's the almighty dollar—Budget. While Stan Smiths aren't exactly the Hope Diamond of sneakers, they're not pocket change either. Some folks might be window-shopping for a more budget-friendly option that still offers that cushy foot feel and timeless look.
Ah, but let's not forget Availability. You finally decide to pull the trigger and treat yourself to some Stan Smiths, only to find they're out of stock. Heartbreaking, I know.
Or maybe you're in a place where Stans are as hard to find as a four-leaf clover. When you can't get what you want, you naturally start looking at what you can get.
And let's not overlook Ethics. In an age where sustainability is more than just a buzzword, some people are keen to lace up in sneakers that are kind to Mother Earth. That might mean going vegan or supporting a brand with fair trade practices.
So, there it is. As much as we all love the ol' reliable Stan Smiths, there are a gazillion reasons why someone might opt for something else. Whatever kicks you choose, just make sure they make your feet—and your soul—happy.