Mom jeans can be styled with various shoe types, such as sneakers, loafers, ankle boots, mules, and block heels. These options allow for diverse and versatile looks, ranging from casual and laid-back to dressy and polished, complementing different occasions and styles.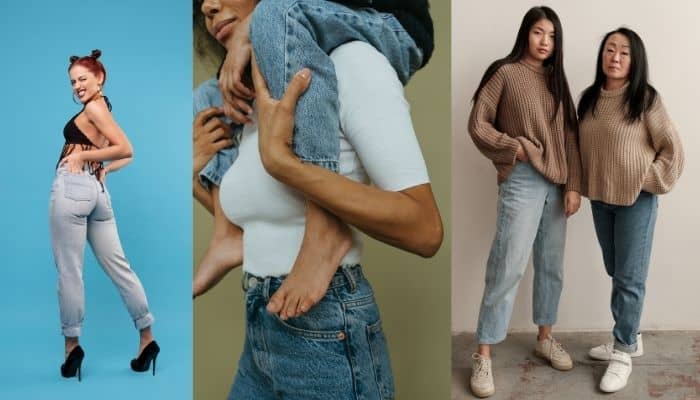 Mom jeans are all the rage right now! There's something about them that oozes confidence and a sense of freedom. From their high-waisted fit to their relaxed silhouette, mom jeans can be worn in so many different ways, but finding the perfect shoe to pair with them is key.
Whether you're looking for a dressy or casual style, we'll show you how to pick the best shoes to wear with your mom jeans and express your individual style. No matter what kind of look you're going for, there's an endless variety of styles available when it comes to shoes.
From sneakers to sandals, boots to stilettos – the possibilities are truly limitless! Get ready to unlock your inner fashionista and find out which shoes will work perfectly with those comfy and chic mom jeans.
What shoes to wear with mom jeans:
| Shoe Style | Description | Outfit Ideas |
| --- | --- | --- |
| Sneakers | Comfortable and casual | White sneakers with a tucked-in graphic tee and oversized denim jacket. |
| Loafers | Classic and versatile | Black leather loafers with a fitted turtleneck sweater and long coat. |
| Ankle Boots | Edgy and stylish | Black suede ankle boots with a cropped sweater and statement belt. |
| Mules | Chic and effortless | Tan leather mules with a striped long-sleeve shirt and denim jacket. |
| Sandals | Summery and laid-back | Brown leather sandals with a tucked-in tank top and oversized cardigan. |
Video – How to style mom jeans with shoes
Mom jeans are a versatile and stylish denim style that can be dressed up or down, depending on the occasion. When it comes to choosing shoes to wear with mom jeans, it's important to consider the overall vibe of your outfit.
For a casual, laid-back look, sneakers or sandals can be a great choice, while loafers or ankle boots can add a more polished touch to your outfit. Mules are a trendy and versatile option that can work well for a variety of outfits. Ultimately, the key is to choose shoes that complement your mom jeans and create a cohesive look.
Platform Sneakers: Relaxed Vibe And Stylish Look
Platform sneakers are a great option for mom jeans. They offer a relaxed vibe while also providing stylish flair that pairs perfectly with the classic style of these denim bottoms.
Wedge sneaker sandals, espadrille platforms, open toed mules, strappy sandals and combat boots all go well when paired with your favorite pair of mom jeans. These shoes provide an edgy twist to any look and can be dressed up or down depending on the occasion.
Their versatility makes them a must-have item in anyone's wardrobe — no matter what their personal style might be! With platform sneakers, you're sure to find something that both fits your lifestyle and speaks volumes about who you are as a person.
High-Top Sneakers: Comfort And Style
For the fashionista looking for comfort and style, high-top sneakers are the perfect choice. These lightweight trainers provide extra ankle support and a sleek look that pairs perfectly with mom jeans.
Whether you opt for classic mules sandals or contemporary wedges shoes, there's something to suit every taste. Espadrilles sandals offer an effortless blend of sophistication and casualness while court shoes add a timeless touch.
With so many options available, it's easy to find the perfect pair of shoes to wear with your mom jeans! High tops have come back into fashion over recent years offering unbeatable all-day comfort without compromising on style – no more blisters or tired feet at the end of the night!
Low-Top Sneakers: All-Day Comfort Without Blisters
Low-top sneakers are the perfect option for any mom jeans outfit. From lace up trainers to canvas slip ons, these shoes provide all-day comfort without those pesky blisters that come with wearing heels or sandals.
Gladiator sandals and wedges can also be paired nicely with mom jeans, but if you want a stylish look without sacrificing your feet's well being then low tops are the way to go!
Not only do low top sneakers have great visual appeal – there is something so liberating about seeing someone confidently strut down the street in a pair of faded blue mom jeans and white high tops – they are also incredibly practical.
Whether you're running errands around town or taking an impromptu weekend getaway, having comfortable footwear will make all the difference.
Ankle Boots: The Ultimate Fashion Statement
Low-top sneakers are a great way to stay comfortable and avoid blisters, but if you'd like to make a trendier statement with your mom jeans, ankle boots might be the perfect choice. Whether it's vintage inspired or modern edge, an ankle boot is sure to turn heads when paired with mom jeans.
With a monochrome look for subtle sophistication or a trendy style for statement making, there's something for everyone in this timeless wardrobe staple. The versatility of ankle boots makes them ideal for all seasons; from summer nights out wearing shorts to winter days with thick tights, they can take you wherever you want to go!
If you're feeling particularly bold why not try bright colors or embellishments? The possibilities are endless. It's time to step into fall weather by pairing your mom jeans with Chelsea boots – just as stylish as ankle boots but with extra protection against the elements.
A classic silhouette that works well with both casual and dressy looks, these sturdy shoes will add some serious style points to any outfit!
Chelsea Boots: A Perfect Match For Fall
Chelsea boots are one of the hottest trends this fall and a perfect match for mom jeans. They give your look an edgy chic vibe with their retro vibes and sophisticated flair, while still being able to make a statement in bold colors or minimalistic style.
Whether you're looking to dress up or down, Chelsea boots will take your outfit to the next level. Plus, they come in so many different styles that it's easy to find the right pair for any occasion!
For those who want something more subtle but stylish, Chelsea boots provide just enough height without compromising on comfort. Their sleek silhouette allows them to fit seamlessly into any wardrobe and add a touch of class to even the simplest of looks.
With these versatile shoes, you can easily transition from day-to-night without having to change your entire ensemble. When paired with mom jeans, Chelsea boots offer complete versatility – showcasing each other's best features.
From casual weekend wear to office attire, this combination is sure to turn heads wherever you go!
Kitten Heels: Showcasing Each Other'S Best Features
Kitten heels and mom jeans are a match made in heaven; their pairing is like two puzzle pieces perfectly completing the picture.
Whether you're going for a monochrome look or something more daring with bold prints, there's an option out there that will make your outfit stand out from the crowd.
Heeled mules bring together suede accents and strappy sandals to provide just enough of a lift to bring any ensemble up a notch while still maintaining a classic vibe.
Rock them with statement earrings and show-stopping bags to add that extra sparkle – you won't regret it!
With so many different combinations available, these two wardrobe staples offer plenty of opportunities to express yourself through fashion.
Cowboy Boots: The Iconic Look
For those looking to make a statement, Cowboy Boots are the perfect way to do it. From classic western style boots to metallic mules, these iconic shoes offer an effortless balance of ruggedness and femininity that can take any outfit up a notch.
Here's how you can show off your independent spirit with cowboy boots:
Strappy sandals combined with a pair of frayed mom jeans create the perfect vintage-inspired look for summer.
Ballet flats provide an elegant contrast when paired with fitted denim shorts or skinny jeans.
Canvas sneakers add a touch of playfulness when worn with slim cut trousers – don't forget to tuck in your shirt!
Whether you're channeling country music icons or giving off some urban cowgirl vibes, there is no denying that Cowboy Boots have become an essential part of anyone's wardrobe who wants to express their personality through fashion.
So if you want to stand out from the crowd and let your independent style shine through, break out the cowboy boots and start making memories! With this timeless look, you'll be sure to turn heads everywhere you go!
Oxfords: A Timeless Look
Oxfords are a timeless look for mom jeans, and the style has been used by fashion icons everywhere. From Audrey Hepburn to Kate Moss, there's no denying that oxfords add an elegant touch to every outfit.
For those who prefer more of a classic aesthetic, these shoes can be paired with any type of mom jeans without fail. But if you're looking to switch up your wardrobe, why not try out some other stylish shoe options? Chunky sandals, minimalist slides, slip on sneakers, heeled mules – all of these styles can take your denim game to the next level!
Whether you're going for a casual or dressy vibe, there's something here for everyone. So go ahead and get creative; mix it up and find the perfect look for you!
Flip Flops: When Comfort Is Your Priority
Oxfords may be timeless, but they don't always provide the comfort and ease that some of us are looking for. If you're on the hunt for a relaxed style while still maintaining an effortless aesthetic, it's time to consider flip flops! With its classic thong design and lightweight material, flip flops offer serious versatility when it comes to casual dressing with mom jeans:
Slides: Whether adorned with fur accents or emblazoned with metallic rhinestones, the slide sandal has been having a major moment lately. Pair them up with your go-to pair of mom jeans for a modern take on off-duty dressing.
Espadrilles: A summer favorite, espadrille flats work great if you're going for a bohemian vibe this season – perfect for those days spent enjoying outdoor brunch dates in the sun!
Sandals: From sleek leather straps to minimalistic mules, sandals can bring much needed texture into your wardrobe as well as add an air of sophistication to any look.
Trainers: Forgo heels entirely by opting instead for trainer wedges – ideal if you want more height without sacrificing on comfort!
From slides to trainers and everything in between, there are plenty of options out there when it comes to pairing footwear with your favourite mom jeans – so why not explore all the possibilities?
And now that you've explored kicks designed for comfort and ease, let's move onto loafers: the classic choice!
Loafers: The Classic Choice
It is said that fashion trends are often cyclical, with classic items making a resurgence in different forms over time. This has certainly been the case for mom jeans – and when it comes to selecting the perfect shoe-pairing, there is no shortage of stylish options.
Loafers have become a staple in many wardrobes as they provide an effortless touch of sophistication and timeless elegance to any ensemble. Slip ons, moccasins, ballet flats, canvas flats, and espadrilles all offer variations on this classic look while still providing a complementary finish to your favorite mom jeans.
With their low profile design and subtle yet chic detailing, loafers can be dressed up or down depending on occasion. For example, pair them with statement jewelry for dinner out or keep things casual with a loose t-shirt tucked into high waisted jeans for running errands around town. The possibilities are endless!
No matter what type of footwear you choose to complete your outfit; the key is finding something that speaks to who you are and makes you feel confident — because at the end of the day confidence really does make all the difference.
FAQs: What Shoes to Wear with Mom Jeans?
What are mom jeans?

Mom jeans are high-waisted jeans with a relaxed fit, typically tapered at the ankle. They were popular in the 90s and have made a comeback in recent years.
What types of shoes go well with mom jeans?

Mom jeans can be styled with a variety of shoes. Sneakers, loafers, ankle boots, and sandals all look great with mom jeans. It really depends on the occasion and the look you are going for.
Can I wear heels with mom jeans?

Absolutely! Heels can add a touch of sophistication to your mom jeans outfit. Try a pair of block heels or pumps for a dressier look.
Are ankle boots a good choice for mom jeans?

Yes, ankle boots are a great choice for mom jeans. They can be worn with or without socks and can work for casual or dressier outfits.
Should I tuck my jeans into my ankle boots?

You can certainly tuck your mom jeans into your ankle boots. This is a great look for fall and winter when you want to stay warm and stylish.
Can I wear sandals with mom jeans?

Yes, you can wear sandals with mom jeans. This is a great look for summer and can work for both casual and dressier occasions.
What types of sneakers look best with mom jeans?

Classic white sneakers are a great choice for mom jeans. They give off a cool and casual vibe, and can be worn with any color mom jeans.
Are loafers a good choice for mom jeans?

Yes, loafers are a great choice for mom jeans. They add a touch of sophistication to your outfit and work for both casual and dressier occasions.
---
Conclusion
Concluding, mom jeans offer an array of styling options depending on the look you're trying to achieve. Whether it's a relaxed vibe with platform sneakers or classic style with oxfords and loafers, there are plenty of shoe choices that pair beautifully with this timeless trend.
In fact, according to a recent survey conducted by Vogue Magazine, over 60% of millennials wear mom jeans at least once per month.
So if you want to stay ahead of the curve in terms of fashion trends while still maintaining comfort throughout your day-to-day activities, consider pairing some stylish shoes with your favorite mom jeans!
No matter what kind of look you're going for, there is sure to be a shoe option that will enhance your outfit and make you feel confident as ever.
It's time for us all to embrace the power of the mom jean and let our feet do the talking! With so many different styles available, why not take advantage of them all? You won't regret it.
You may also be interested in.  What Boots to Wear with Leather Pants? and What To Wear With Snakeskin Booties?