Disclosure: We may get commissions for purchases made through links in this post.
When it comes to shoes for wide feet, comfort is the number one thing. If you are looking for a wide-width shoe for women or men or children, you will want to know about the Twisted X brand. These are very comfortable boots even in a regular width.
The Twisted X company specializes in making comfortable footwear for people who have wider feet or have special needs in their feet.
Since so many of the shoes on the market are made to fit the average foot, many people find that they are not properly sized in order to fit their feet properly.
These people tend to have trouble finding good-fitting shoes that are not causing them pain or discomfort while wearing them.
The Twisted X company does not have this problem because they make their shoes with a wider toe area which makes them more comfortable for people with wide feet.
This company also offers some of its footwear with arch supports incorporated into them which helps reduce pain caused by certain foot conditions.
---
So… Do Twisted X Shoes Come In Wide Width?
If you have wide feet but want to wear cowboy boots, then congratulations! The Twisted X brand offers styles designed specifically for people with wider feet, to fit comfortably and securely while looking great.
Twisted X shoes do provide you with the option to choose wide sizes. They also have regular and narrow size options as well so they should fit all foot types.
In fact, many customers with wide feet even find that the regular size shoes and boots are able to accommodate their feet very comfortably.
Another major benefit for people with wide feet is that most of their boots are made from leather and leather is more forcing than most other materials and will stretch over time to make your foot even more comfortable.
---
How To Order The Wide Size
When you order Twisted X footwear from places like Amazon select the Size drop-down box and choose the wide version of the shoe.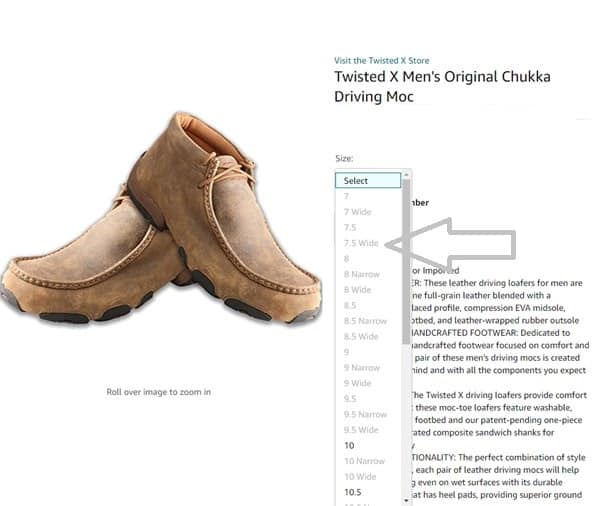 Depending on how wide your feet are it could be best to stick with the general consensus of ordering a half size down but get a wide size.
But if you have absolutely humongous wide feet or if they are fat as well you should stick with your normal size and order in the wide size.
Let's discuss this just a little more…
---
Are Twisted X True To Size?
Twisted X shoes come in wide widths, yes. Twisted X boots are true to size, no. Twisted X sizing runs larger than most shoe brands. If you are a half size, it is best to go with the smaller size. If you are full size, it is recommended that you choose the larger size of your normal shoe size.
General consensus is that Twisted X runs big and you should order a half size down and break them in if they are a little tight rather than buying a size up and having them too loose.
So… if you are size 9 you should order a size 8.5 – However, some people are ordering an extra half size bigger and are happy. Nothing is straightforward with shoes everyone is so different.
---
Are Twisted X Good For Wide Feet?
The Twisted X boots are a great choice for those with wide feet. They have a padded ankle collar and a removable footbed that will cradle your foot comfortably whether you're walking on uneven trails or running errands around town.
However, they are not a brand of shoe that gets many mentions on forums when people are looking for the best shoes for wide feet. That honor still belongs to Altra Shoes.
But… when you dig into the customer reviews you can find plenty of people with wide feet giving them the thumbs up and they have the advantage of coming in wide sizers and being made of stretchable leather.
Everybody has a foot type- narrow, standard, or wide. If you're looking for a cowboy boot that feels great despite the size of your feet, look no further than Twisted X.
---
In summary, Twisted X shoes are the ideal footwear for many individuals. Some people wear them because they are working in harsh conditions, while others wear them because they are riding horses or performing various other strenuous activities.
The Twisted X brand of shoes is very durable so you can wear them for any occasion so you will have no problem wearing them for work or just every day. These boots are also easy to clean so you don't have to worry about ruining your new pair of shoes with dirt or water spills.
These boots are not only comfortable but they are designed to keep your feet warm in winter months and keep your feet cool in summer months so you don't have to worry about your feet getting cold or hot when you wear these shoes.
You may also be interested in… What Are Merrell Shoes Good For? (Will They Work For You?)