Disclosure: We may get commissions for purchases made through links in this post.
Mizuno shoes are designed to offer flexibility, the shoes are built using low-density sole materials to absorb impact when striking the ground. Mizuno's wave technology also provides maximum cushioning in all the right places during heel strikes, giving you less chance of injury. But do people with wide feet get to experience this as well?
Yes, Mizuno does provide the option of selecting wider widths when ordering their shoes and I even have an image below showing you how easy it is to select the wider size when your order.
Mizuno helps all runners, no matter how big or small! Their shoe collection is so good in fact, it includes shoes in all different width ranges to help you always feel your best. The Wave Plate of the Mizuno shoes combines with the midsole cushioning system for a smooth, propulsive ride for wide feet.
---
So… Do Mizuno Shoes Come In Wide Width?
Are you tired of being forced into wearing overweight shoes that are clunky, ugly, and offer substandard performance just because you have wide feet? Unlike other wide shoe solutions, Mizuno footwear for wide feet is just as lightweight and comfortable as their standard-size shoes.
Mizuno makes running shoes that comfortably fit wide feet. With heel and arch support as well as room in the toe box, their range of running shoes provides comfort and plenty of widths – even for those with EEEE feet.
Mizuno has recognized that as a whole, the population is getting wider. They have adjusted their lasts for all of their running shoes to accommodate this trend, and are proud to offer their products in wide widths.
---
How To Order The Wide Size In Mizuno
When you order Mizuno footwear from places like Amazon select the Size drop-down box and choose the wide version of the shoe.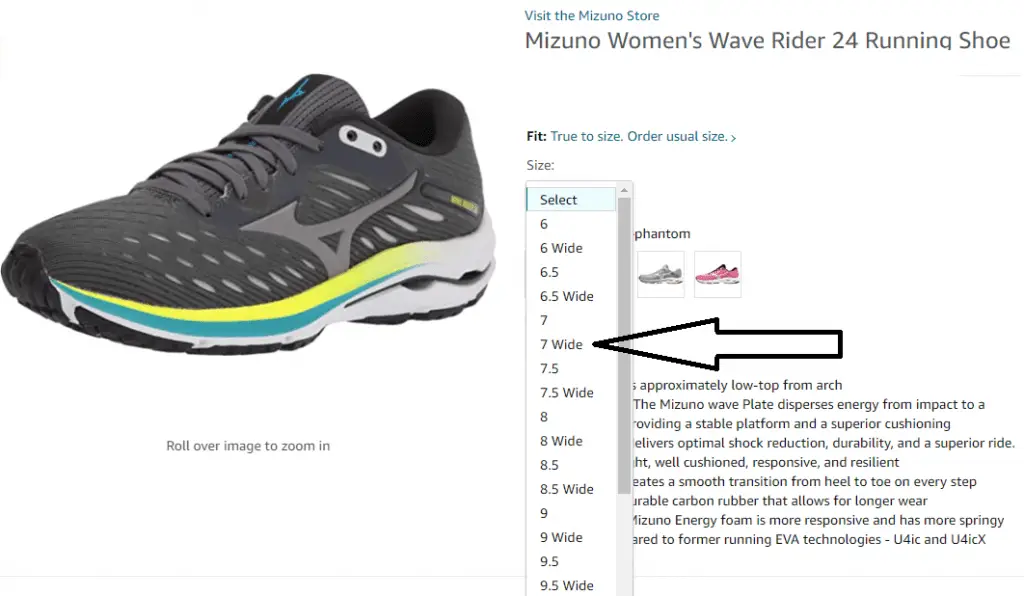 The Wave Plate technology is the first of its kind to be designed for runners and is quite compatible with people who have wider feet. It is a more dynamic support system that provides natural stride stability. Mizuno Wave Plate shoes are more forgiving for runners with wide feet, delivering a smoother ride without compromising performance or control.
The Wave technology is recommended for runners who have wider feet, are midfoot strikers, or require more support. The Wave plates are located in areas of high impact and pronation control, absorbing shock through compression and releasing energy for propulsion.
This shoe works best for: Runners who like a flexible, comfortable shoe; runners with wide feet; neutral runners; mild overpronators; faster-paced runners; mild to moderate overpronation; and those who prefer a more minimalist or neutral shoe.
---
Are Mizuno True To Size?
When buying running shoes, one of the most important factors is in getting them fitted correctly for your feet. If you get the correct size of your running shoes, your performance on long runs will improve drastically and continuously!
Are Mizuno running shoes true to size? Do they run narrow or wide? Many customers who have bought their shoes said that Mizuno does run true to size, but there are some customers who disagree.
Mizuno has a few different lines of shoes and they do vary a bit, but generally speaking, they will not be too small or too big. The differences come from the amount of padding and technology used in the construction of the shoe.
Most people agree that Mizuno does run true to size. However, many do say they run slightly small and narrow so if you have any doubts about your feet being on the wide size it will be best to order the wider width and maybe even a half size up.
It is also worth considering other factors such as…
If you are wearing your running shoes with thick socks to keep your feet warm, then you will need to go up half a size to accommodate for this.
If your running shoes are too tight with the thick socks, then it's better that you order one size larger than normal so that your feet can be comfortable.
I think if you have any doubt you will need to go into a physical store and try a pair on rather than ordering online. Once you find a size that fits you comfortably you can be assured with Mizuno that their sizes are consistent and that is the size you can depend upon across their entire range of shoes.
---
Are Mizuno Shoes Good For Wide Feet?
Once you find a pair of shoes that actually fit your wide feet are they actually good for your feet? In reality, we have already seen that because we have mentioned the midsole cushioning and the shock-absorption in conjunction with these shoes and both are excellent benefits to have for your wide feet.
When it comes to running shoes for wide feet, the Mizuno brand should be at the top of your list. Taking into consideration various parameters like shock absorption, flexibility, weight, sole thickness and length, arch support, toe box width, etc.
Mizuno shoes are known to be excellent for people with wide feet. The extra room that they afford in the toe box will help shoes fit better and feel much less uncomfortable. Wider feet tend to move side-to-side in shoes, so a wider toe box helps your foot to stay centered and stable.
---
In summary, Mizuno makes a selection of shoes that are wide, for those athletes with wider feet. The Wave Plate technology enhances the performance of the shoe so it feels smooth and comfortable.
Mizuno has a variety of shoes that have Wave Plates technology to offer wider feet a better experience for running, walking, and training.
Mizuno says that their running shoes are designed with a low heel-cuff height so that runners can wear their running shoes without having to worry about rubbing or blisters during long runs. Runners can also wear their running shoes even while walking around town after a long run.
You may also be interested in… Do Twisted X Shoes Come In Wide Width? and Can You Get Heels Shortened? (Can You Cut Them Down?)