I'm passionate about fashion with a conscience, so let's dive into the world of vegan shoes. We'll explore the top ten materials that provide handcrafted comfort without harming a hair on an animal's head.
From plant-based leathers to recycled plastics, we'll see how these eco-friendly choices are revolutionizing footwear.
If you're as excited as I am about conscious consumerism and sustainable style, you're in the right place.
Let's get started on this enlightening journey together.
Top 10 Materials Used in Vegan Shoes
| Material | Benefits | Drawbacks |
| --- | --- | --- |
| PU Leather | Lightweight and looks like real leather. It's also pretty affordable. | Not super breathable and can wear out faster than real leather. |
| PVC | Super durable and water-resistant. Your feet will stay dry, come hell or high water. | Not eco-friendly and can be stiff, so maybe not the best for a marathon. |
| Canvas | Breathable and lightweight. Plus, it's usually cheaper than a night out. | Not water-resistant. Step in a puddle, and you'll know it. |
| Hemp | Eco-friendly and breathable. Mother Earth gives it two green thumbs up. | Not the most durable and can fray over time. |
| Cork | Natural and renewable. Plus, it molds to your feet like that one friend who agrees with everything you say. | Can be damaged by water and might not be the most stylish option. |
| Recycled PET | Made from recycled plastic bottles. You're basically saving the planet one step at a time. | Can be less breathable and might not last as long as you'd hope. |
| Microfiber | Soft and breathable. It's like your feet are getting a hug. | Not the most durable and can show wear and tear. |
| Rubber | Super durable and water-resistant. Great for those "singing in the rain" moments. | Can be heavy and not the most breathable material. |
| Tencel | Biodegradable and made from wood pulp. It's like walking on air. | Not super durable and can be expensive. |
| Coconut Coir | Made from coconut husks, so it's natural and renewable. | Can be stiff and not the most comfortable for long walks. |
The Nitty-Gritty
PU Leather: It's like the tofu of the vegan shoe world. It can mimic leather pretty well, but let's be honest, it's not the real deal. If you're looking for something that won't break the bank and still looks good, this is your go-to.
PVC: This one's a bit of a bad boy—tough and rugged but not exactly kind to the environment. If you're going for a water-resistant option, it's solid, but maybe not for everyday wear.
Canvas: Ah, the classic. Great for casual shoes and summer days. But if you're stepping out in the rain, maybe leave these at home unless you want that squishy-sock feeling.
Hemp: The hipster of shoe materials. It's all-natural and breathable but might not last as long as you'd like. Good for casual wear but maybe not for that hike you've been planning.
Cork: It's like the wine of shoe materials—gets better with time as it molds to your feet. But keep 'em away from water unless you want them to lose their shape.
Recycled PET: You're basically a superhero for the planet if you wear these. But they might not be the most breathable, so maybe not the best choice for that 5K you've been training for.
Microfiber: Soft and comfy but can show signs of wear and tear quicker than you can say "I need new shoes."
Rubber: Great for rain boots or any situation where you need to keep water at bay. But they can be a bit heavy, so maybe not the best for your daily jog.
Tencel: It's like the luxury car of vegan shoe materials—smooth and comfy but can be pricey. If you're willing to splurge, go for it.
Coconut Coir: It's like walking on a tropical island, sort of. They're eco-friendly but can be a bit stiff, so maybe not the best for long walks on the beach.
So there you have it, a rundown of the top materials for vegan shoes. Now go forth and find your perfect pair!
Understanding the Concept of Vegan Shoes
I'm trying to grasp how someone could make shoes without using any animal products. It's a common vegan shoe misconception that such footwear would lack durability or comfort.
But, ethical production practices have evolved over time, offering us a range of cruelty-free materials. We now have alternatives like cork, hemp, and even pineapple leather.
These materials are sturdy, comfortable, and completely vegan. They're not just good for animals, but also for our environment.
Producing these materials consumes less water and emits fewer greenhouse gases compared to traditional leather. It's an incredible feeling to walk around knowing that no living being was harmed for my comfort.
The Significance of Vegan Shoes in Fashion
I've noticed that vegan shoes aren't only a sustainable choice, but they're also making a significant mark in the fashion industry. Fashion influence, once dominated by animal-derived products, is shifting towards compassion for all life.
Vegan acceptance is on the rise, and with it, innovative materials like pineapple leather, cork, and organic cotton are making waves. They're chic, cruelty-free, and kind to our planet, meeting the demands of an audience seeking freedom from exploitative practices.
From the intricate detailing in handcrafted vegan leather boots to the comfortable, breathable lining of recycled PET sneakers, every aspect of these shoes is a testament to the harmonious marriage of style, ethics, and sustainability.
Truly, vegan shoes are revolutionizing fashion.
The Eco-Friendly Aspect of Vegan Shoes
As a fan of vegan shoes, I'm aware of their eco-friendly benefits. They're made from sustainable materials like cork, pineapple leaves, and recycled plastics, which significantly reduce our carbon footprint.
It's a great feeling knowing that I'm contributing to the health of our planet with every step.
Sustainable Materials Usage
I can't stress enough the importance of using sustainable materials in the production of vegan shoes to reduce environmental impact. Ethical sourcing is paramount, and a vegan certification guarantees that no animal products are used.
Here are some sustainable materials to look for:
Cork: It's renewable, recyclable and biodegradable.
Plant-based polymers: These alternatives to petroleum-based ones are much kinder to the environment.
Organic cotton: It's grown without harmful chemicals, and requires less water to grow.
Piñatex: Made from pineapple leaves, it's a waste product turned into a sustainable material.
Recycled rubber: It's a great way to repurpose old tires and other rubber waste.
Reducing Carbon Footprint
We're zeroing in on reducing our carbon footprint, but it's not just about choosing the right materials, it's also about how those materials are sourced and processed. As a vegan, I have a responsibility to choose materials that are not only cruelty-free but also environmentally-friendly.
| Material | Carbon Footprint |
| --- | --- |
| Cork | Low |
| Hemp | Low |
| Linen | Moderate |
| Recycled Polyester | High |
Cork and hemp, for example, participate in carbon sequestration, absorbing more CO2 than they emit. Linen has a moderate impact on greenhouse emissions, but it's still a better choice than plastic-based materials.
Recycled polyester, while not ideal, is a step towards reusing materials instead of creating new ones. Let's tread lightly, leaving only footprints of kindness on our Earth.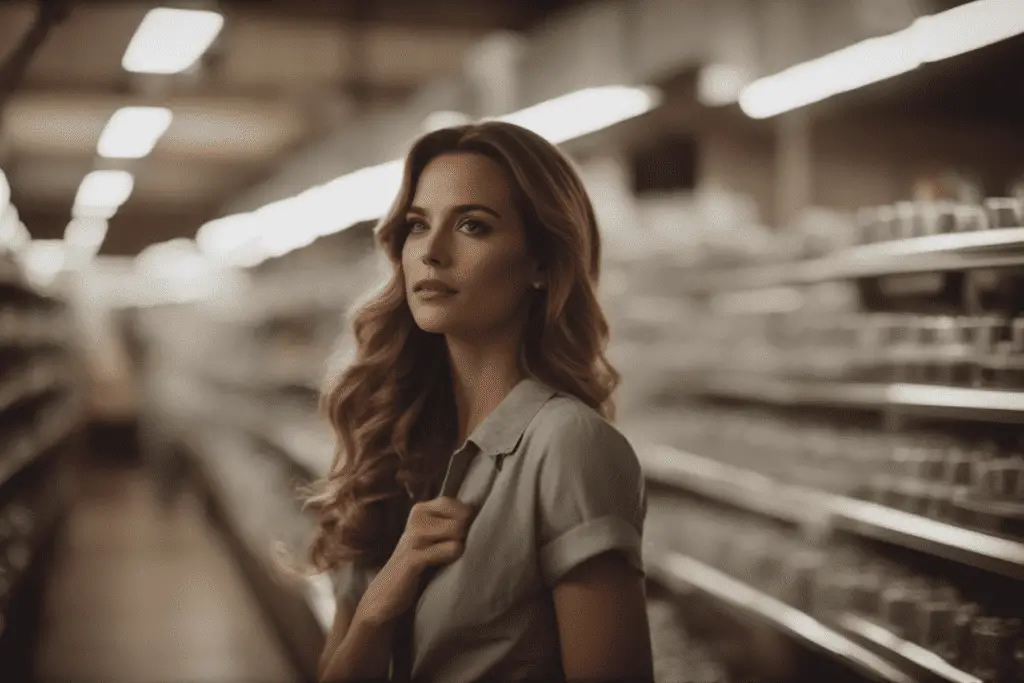 Also see: Top 10 Affordable Handcrafted Vegan Footwear
Exploring the Material: Plant-Based Leathers
Let's dive into the world of plant-based leathers, a sustainable alternative to traditional leather in vegan shoe production. As an advocate for the environment and a conscious consumer, I'm always on the hunt for leather alternatives that don't compromise on plant-based durability.
Here are a few key points to ponder:
Plant-based leathers significantly reduce the environmental impact of shoe production.
They're cruelty-free and a testament to our freedom to choose compassion over convenience.
Materials like cork, mushroom, and pineapple leather offer impressive durability.
They're breathable and comfortable, making them perfect for everyday wear.
Innovations in this field are continually expanding, promising a future where no animal has to suffer for our fashion choices.
Let's embrace this sustainable revolution, one step at a time.
The Role of Recycled Plastics in Vegan Shoemaking
In the realm of vegan shoemaking, recycled plastics are playing a crucial role, and as an eco-minded consumer, it's a development I'm genuinely thrilled about. Plastic's versatility allows it to be transformed into breathable, durable fabrics, perfect for footwear.
However, recycling process challenges, like sorting and cleaning, don't deter committed manufacturers. They understand it's a small price for the freedom to create guilt-free shoes, unburdened by the environmental harm of traditional materials.
They're striving to turn waste into something beautiful, and as a consumer, I'm on board.
The Durability and Comfort of Organic Cotton
In my experience, there's a lot to love about organic cotton, especially when it comes to vegan shoemaking. Its durability is impressive, often outlasting synthetic materials, and it's incredibly comfortable too.
Let's not forget its eco-friendliness, as it's grown without harmful pesticides or genetically modified organisms, making it a perfect fit for us, conscientious vegans.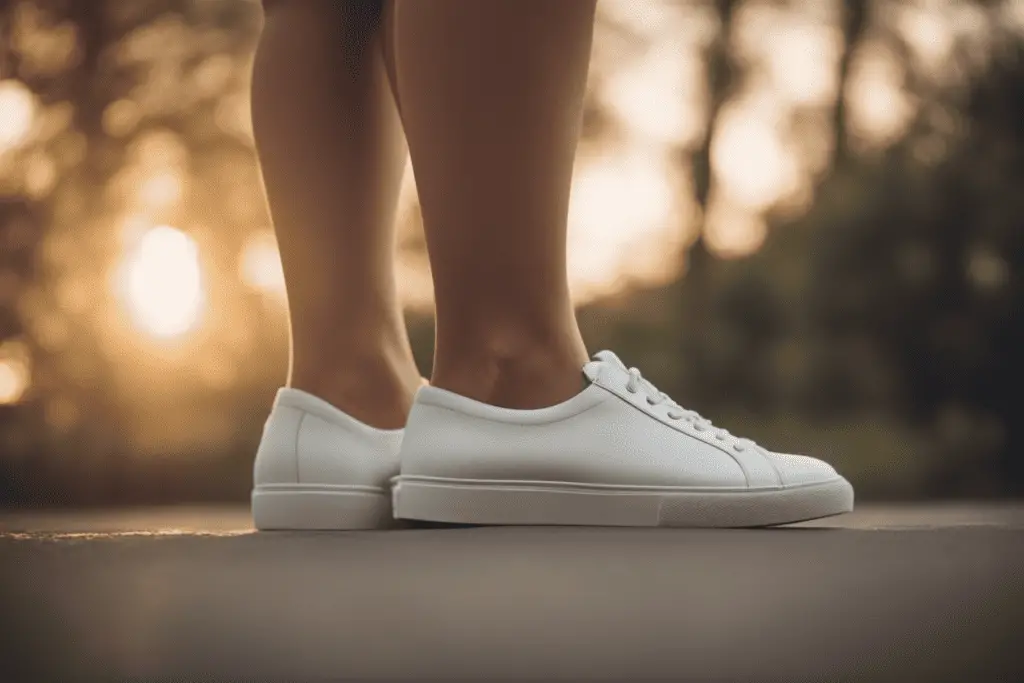 Also see: Top 10 Go-To Online Stores For Handmade Vegan Shoes
Organic Cotton Durability
I've noticed that shoes made from organic cotton tend to last me at least two years before showing signs of wear and tear. Organic cotton's durability can be attributed to both careful cotton farming impacts and meticulous cotton processing techniques. I've found that these factors contribute to a more resilient fabric:
Organic cotton farming avoids harmful pesticides, preserving soil quality.
The use of natural fertilizers enhances cotton fiber strength.
Cotton processing keeps the fibers long, enhancing durability.
Minimal chemical treatment during processing retains the natural toughness of the cotton.
The eco-friendly dyeing process doesn't weaken the fabric.
I'm not just wearing vegan shoes, I'm embracing a lifestyle that values freedom, sustainability, and conscious consumerism. Now that's a step in the right direction.
Comfort in Cotton
Feeling the gentle caress of organic cotton against my skin, I'm amazed at the seamless blend of comfort and durability it offers. This vegan marvel isn't only earth-friendly, but it's also hypoallergenic, a relief for those with cotton allergies.
It's a stark contrast to the harsh reality of conventional cotton production, laden with pesticides and chemicals, which can trigger allergic reactions. Organic cotton provides the freedom to live without worry of such discomfort.
Its production also respects Mother Earth, free of harmful chemicals, maintaining soil fertility, and promoting biodiversity. The love for this material is more than just a trend; it's a movement toward a healthier planet and a testament to the power of consumer choices.
In every thread, there's a story of sustainability and freedom, and I'm proud to wear it.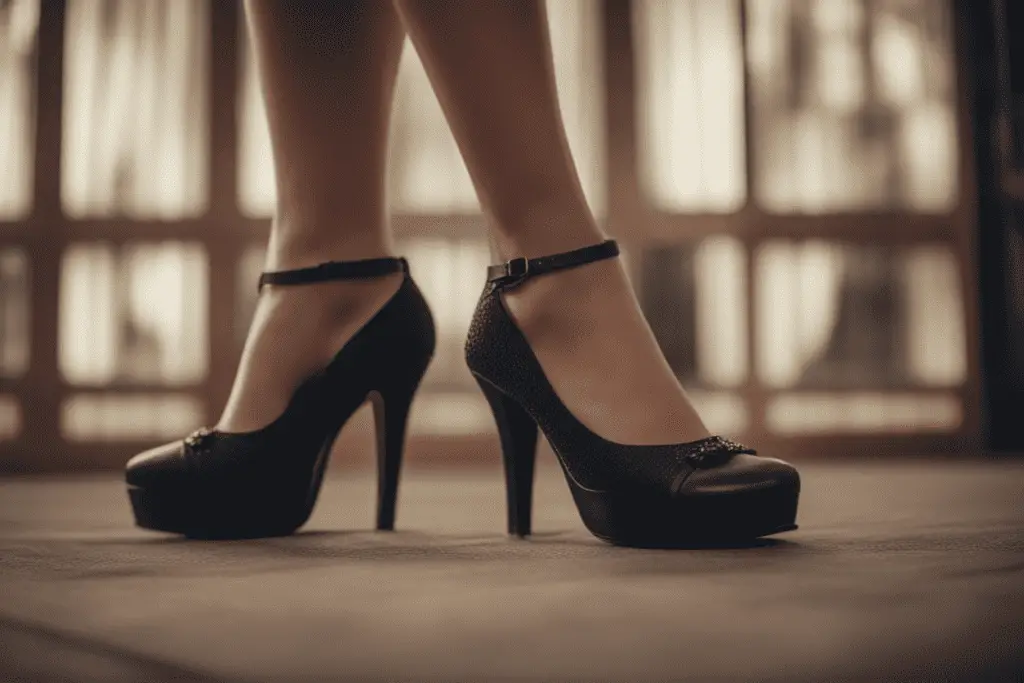 The Versatility of Hemp in Vegan Footwear
I'm really taken aback by how hemp can be worked into so many different styles of vegan footwear. But it's not just the versatility that's impressive. The hemp cultivation benefits are huge too, from a lower environmental impact to its antimicrobial properties.
Hemp requires less water and fewer pesticides than cotton.
Its antimicrobial properties help keep foot odors at bay.
Hemp fabric is durable yet breathable.
Shoes made of hemp are usually biodegradable.
It's a renewable resource, which means it's sustainable.
I've always admired the freedom that comes with choosing vegan, but now I'm even more captivated. Not only can we liberate animals from harm, but we can also contribute to our planet's health with choices like hemp.
The Rise of Sustainable Synthetic Materials
I've been closely observing the evolution of synthetic materials in the vegan footwear industry. They're adapting brilliantly, and it's genuinely exciting to see how much more sustainable these synthetics have become.
The shift towards eco-consciousness in this sector is both inspiring and pivotal for our planet's future.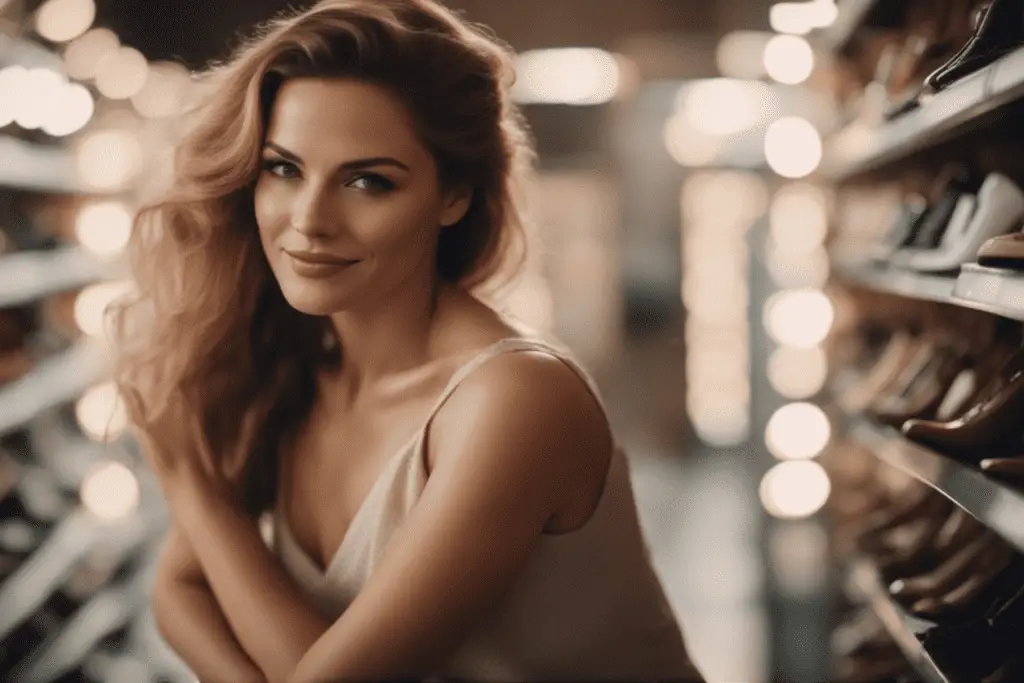 Synthetic Materials Evolution
In the past decade, I've witnessed a remarkable evolution in the development of sustainable synthetic materials for vegan shoes.
Attention to Synthetic Material Safety and Synthetic Material Lifespan has inspired advancements that aren't only environmentally friendly but also deliver freedom of choice to conscious consumers.
In my experience, the top five materials that have evolved are:
Plant-based polyurethane: A safer alternative to PVC.
Recycled PET plastics: Reducing waste with each pair.
Algae-based foams: Innovative, renewable, and carbon-neutral.
Organic cotton and hemp: Naturally breathable and biodegradable.
Cork and natural rubber: Durable, renewable, and comfortable.
Each of these materials, in their own way, embodies our collective strive for a more sustainable future. With continued innovation, I'm excited to see what the next decade brings.
Sustainability in Synthetics
I'm particularly intrigued by the advances in sustainability within the realm of synthetic materials. The balance between ethics and synthetic production processes can be a tightrope, but it's one we're learning to traverse.
Here's a closer look:
| Material | Sustainability Factor | Ethical Considerations |
| --- | --- | --- |
| PU Leather | Lower environmental impact than PVC | No animal harm, but petrochemicals used |
| Recycled PET | Reduces landfill waste | Energy-intensive production |
| Plant-based Polymers | Renewable resources | Potentially invasive crops |
| Bio-based PU | Reduced carbon footprint | Limited availability |
The shift towards more conscious decisions in synthetic material ethics is empowering. It gives us the freedom to choose footwear that aligns with our values. It's a step forward, towards a future where comfort doesn't compromise compassion. Our choices matter, let's make them count.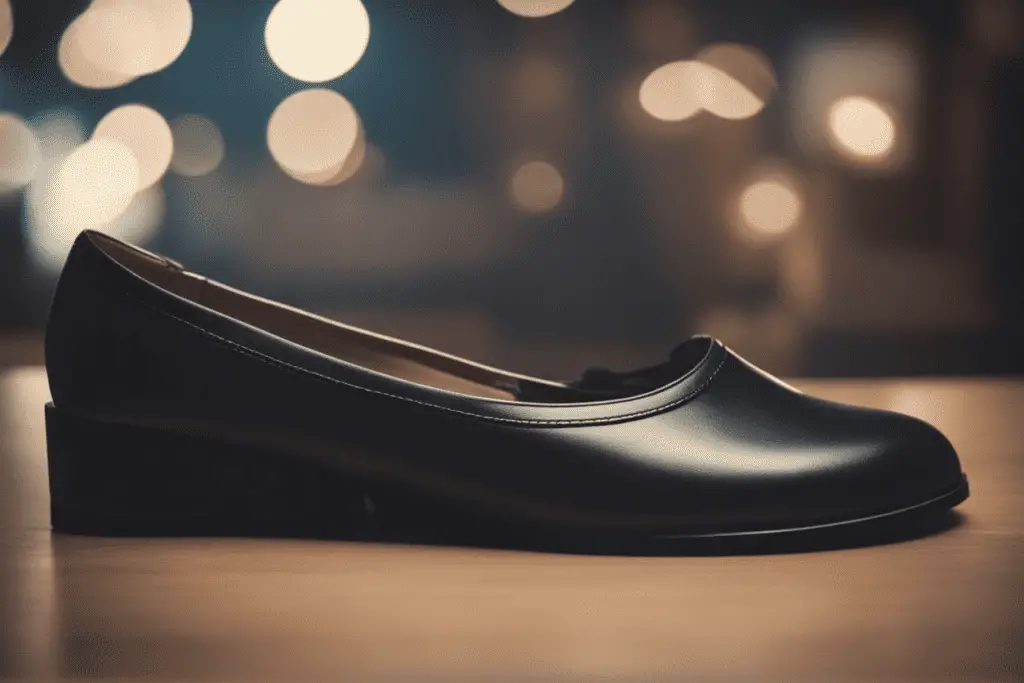 How Cork and Rubber Contribute to Vegan Footwear
Having researched extensively, I can't stress enough how cork and rubber are revolutionizing the production of vegan footwear. The cork harvesting process is a perfect example of sustainable practices, as the tree isn't cut down, but rather its bark is stripped, allowing for regrowth.
Rubber alternatives are also gaining popularity. I've discovered five key reasons to love these materials:
They're 100% vegan, causing no harm to animals.
They're sustainable, reducing our carbon footprint.
They provide comfort due to their cushioning properties.
They're durable, ensuring you get value for your money.
They allow for unique, stylish designs.
The Future of Vegan Shoe Materials: Innovation and Sustainability
I've identified three promising new materials that could shape the future of vegan shoe production, blending both innovation and sustainability.
Innovative bio fabrics, made from renewable resources like pineapple leaves and mushrooms, offer a cruelty-free alternative that doesn't compromise on style or comfort.
These fabrics aren't only breathable but also durable, giving us the freedom to wear our beliefs without sacrificing practicality.
Algae derived materials are another exciting development. Algae, a highly renewable resource, can be processed into flexible, comfortable soles, reducing our reliance on petroleum-based products. It's a win-win situation for our feet and our planet!
These breakthroughs in materials science offer a glimpse into a future where vegan shoes are no longer the exception but the norm. A future where our footwear treads lightly on the earth.
Conclusion
As a conscious consumer, I'm excited by the innovative materials used in vegan shoes. Plant-based leathers, recycled plastics, hemp, sustainable synthetics, and even cork and rubber all play a part in creating cruelty-free, environmentally friendly footwear.
It's clear the future of vegan shoemaking lies in the harmony of innovation and sustainability. A future where fashion meets compassion and where every step we take is a conscious one towards a greener planet.